Dancer, Mechanical Engineer - Kayley Seawright
"When you're told every single day 'Wow - you don't look like an engineer,' how do you not take that to heart? Over time, it affected my sense of belonging. I wore fewer colors, I acted more masculine than I normally would have, and I wasn't being my authentic self at work."
Name: Kayley Seawright | Occupation: Mechanical Engineer | University and Year of Graduation: Clemson University 2014, B.S.
Kayley and I were supposed to meet at Second State Coffee, until I realized that it was closed. Me feeling so silly and unprepared, she was a great sport about it, and we decided to sit outside on a bench and chat despite the Charleston heat.
Kayley's interest in engineering emerged through a long process. She explained to me that her parents are extremely hard working people and aren't college graduates in the traditional sense. Her mom completed her college degree in accounting while working and raising Kayley and her sister. Her dad is a parts manager for a car dealership, and she was raised seeing his interests in cars and boats. "Math and science weren't my favorite subjects until I took a physics class in high school, and it started to connect everything for me. I actually began my undergraduate degree in architecture at Clemson University before changing my major to engineering. It's ironic looking back now, because I do structures work, so that architectural interest has, in a way, come full circle. I declared mechanical engineering, because it was broad and there were so many opportunities. From there, I slowly figured it out along the way," she explained.
Kayley is currently a Structural Analyst at a very prominent company in Charleston. I asked Kayley if she knew what she was getting herself into by pursuing the engineering field. Did she think that she would end up where she is today? Without hesitation, she said no.
"So, definitely not. I don't remember hearing much about engineering growing up. It seems like schools now promote engineering and manufacturing much more, which is wonderful to see. The sound of engineering simply felt intimidating and foreign to me as a student because I didn't know what it meant. My guidance counselors, teachers, and family pointed me in the engineering direction when I was trying to figure out what I wanted to do. It was definitely a step out of my comfort zone," she said.
I could tell that Kayley loves her job by the way she was talking about it. But of course, we are all much more than our occupations, and the subject of her passion for creativity crept into our conversation. She shared with me that she grew up loving music, dancing, and playing violin. "I love dancing – and still dance through the aisles at the grocery store, as a 27 year old! I always had that creative side to me growing up. Being in research and development, I feel like I can be more creative with engineering. Most of my time has been supporting space programs and future development programs, which can be constraining with regulations, but also allows for some creativity in the design space. As long as it works mathematically, too!"
She continued to share with me that she began working as a performer at Walt Disney World right out of college instead of pursuing her engineering degree immediately. I asked her to share more in hopes of hearing the rest of her story and how she transitioned into the engineering role that she is in today. "For about half a year, I was a character performer at Disney World, while researching where I wanted to begin my engineering career. Senior year at Clemson was really busy with school and extracurricular activities, and I didn't have the time I needed to dedicate to the job search. I thought I wanted to go to Disney to be an Imagineer and was drawn to that role because Disney, to me, seemed more aligned with my personality. So I started pursuing that, but didn't see any jobs that were a good fit for me. In considering the performing position, I realized that I would never do something like that again after I started my career. So I went and auditioned with my little sister and started less than a week later. There was a little extra speech training required to lose my accent. Most Disney characters don't have Southern accents," she laughed.
"I was performing full time and dedicating myself to the job search after work. During the first year at my current job, I purposely didn't mention my job at Disney because I was worried people in engineering wouldn't take me seriously," Kayley said. I nodded my head in empathy. I personally feel like it's hard for people to be accepting of creative career paths. It was definitely really hard for me to accept it myself, because I always thought that being an artist meant that I would never be able to put food on the table. But maybe it's really all in my head, and I'm the biggest critic of them all.
She continued: "But when someone found out [about my job at Disney], they thought it was super cool! It's part of what makes me unique. Certainly not the typical engineering route - to begin as a performer at Disney," she said proudly.
When I asked her about any challenges or rewards that she feels she's faced in her career so far, Kayley thought for a moment. She then went on to say that the biggest challenge has been finding her sense of belonging. "I certainly don't fit in as much as I might in another career path. I just heard an interesting statistic that women in mechanical engineering has been on the rise until recently, where the number of women working in the industry has dropped two percent. Maybe we too often glamorize what it means to be an engineer, and when women get into the role and realize 'Wow this is harder than I expected' or 'I don't feel like I fit in,' they decide to leave," she said. "One of my passions is going to schools and teaching kids about what it means to be an engineer, and letting young girls see a face like theirs in that path. But at the same time, we have to be authentic and vulnerable in the challenges that we face as women in engineering. We are in this together. I think a lot of companies are making huge strides to keep women in engineering. In a male- dominated field, there are a lot of perceptions about having a career and a family," Kayley said.
"Can you elaborate on that?" I asked her.
"I make it a priority now to set boundaries at work that will enable me to have a healthy life balance and be there for my future family. The worst thing for me is hearing a woman feeling such pressure to choose between a career and a family. If there's a role that is so demanding that it means I have to choose between having children and pursuing my dreams, then that is not the place for me. Companies having longer maternity/paternity leaves, mothers' rooms for pumping, and daycare are incredible strides in supporting women in the workplace during a challenging transition period," she explained.
In regards to rewards, Kayley was happy to share that she loves what she does and thinks it's the coolest job in the world: "It's challenging, it's innovative, and we are shaping the future. It's inspiring even to be the smallest piece of this huge puzzle! I feel like I am making a difference."
Because I consider myself to be more of a realist, with all the highs come the lows. When I asked Kayley what she would advise to her 18-year old self if she could go back in time, her two main points left me feeling a tad emotional, because I've been through these struggles myself and have questioned my abilities as a result. Her first point: never feel like you have to prove yourself to belong. "Feeling the need to prove to anyone that you're meant to be an engineer can be toxic. When you're told every single day 'Wow - you don't look like an engineer,' how do you not take that to heart? Over time, it affected my sense of belonging. I wore fewer colors, I acted more masculine than I normally would have, and I wasn't being my authentic self at work. I worked just as hard and I deserve to be where I am, yet I still had this sense that I had to prove to everyone that I belonged and to change myself to fit in. It led to me having a fear of asking questions, because I didn't want to appear like I didn't know what I was doing. In reality, most people find joy in helping and teaching others, and everyone has something to teach you. Having a sense of curiosity and asking questions sets you up for success in your career development," Kayley said.
She continued: "Two - get comfortable with being uncomfortable. I graduated college without doing any engineering internships. Part of the reason being that starting my career felt scary and intimidating, and I wasn't sure what to expect. After about a year at my company, I got the opportunity to be a mechanic for a six month stint. I was on the production floor at 5:55am my first day – a 23 year old, blonde engineer, with my hardhat just barely pushing me above that five-foot mark. You can imagine the faces of the team when I was introduced as the newest member. I was extremely uncomfortable and nervous, but it was an incredible experience. In no time, my fellow mechanics were like family to me, and I still go back to visit as often as possible. That experience has since given me the courage to get comfortable being uncomfortable."
I asked her how she overcame not fitting in at first in that situation. She told me that the most important thing was to be herself and get to know her teammates by being authentic. "I let my light shine! I was myself, and people appreciated me for it. I asked a lot of questions, and showed a willingness to learn from everyone. There can be an interesting dynamic between engineering and the people actually building the planes. It changed their mindset about who we are as engineers, having one working right alongside them, and I learned more about the impacts of decisions I make as an engineer. Always approach a new situation as a chance to learn. Confidence and courage can be learned."
I believe Kayley is wise beyond her years because of this experience. I transitioned our conversation into how it has been for her with identifying as an engineer. Did she do the same thing as me and lose herself in her occupation? Did she have her blinders on and was she all about engineering since the first day that she declared her major at Clemson? She related to what I shared with her about my personal experiences.
"I definitely identify with what you said, but it's interesting the ways we are different. I was not all about engineering from day one. At Clemson, most of my involvements were not actually related to engineering and most of my closest friends were not engineers. However, when I first began my career, my balance with work was not as healthy as it is now. I almost started to forget who I was and my passions outside of my career. There was an immense pressure I was putting on myself to perform well, for both myself, but also representing women in the industry. That pressure, the need to prove myself, and my own career motivations led me to begin to lose myself in my occupation in the first year or so of my career. I'm not embarrassed to say that it took an unexpected breakup with someone I'd been with for years, for me to build a stronger foundation for myself. I was reconsidering my career and everything in my life. It took me through an evaluation of why I chose engineering in the first place, why I love it, and why it was meant for me. I became less stubborn about my career motivations and really realized the importance of balancing my life and my passions. I love music and dancing, being active, and being on the water; and one day I am really looking forward to being a mother. I don't want to be that person who is working 60-80 hours a week. I realized that I needed to start setting that expectation now, for who I want to become. When I started having more of that balance, I realized I was bringing a happier, more authentic self to work like never before, and my career took off from there," Kayley explained to me.
Kayley's passions include dance, music, and education. She's pursuing her Master's degree right now and would love to teach one day. She told me that she would recommend engineering to a young girl in a heartbeat if that's what she wanted to do.
"Recently, I was at an elementary school teaching the students about engineering. We read a book together and did a rocket activity. After we finished, the teacher showed me some of the students' projects, with engineering being one of the topics. The students had to draw a picture of what they thought of when they heard the word 'engineer.' On one of the posters, the students drew a picture of a woman. When she showed me that, tears immediately filled my eyes. I realized that if you had asked me to draw anything when I heard the word engineer, I would have not drawn a woman. I left feeling so inspired! It's true that when you give back, you get so much more in return," her eyes teared up.
I concluded our interview with asking Kayley about what she wants people to know about female engineers. Her response: "Try to prevent yourself from forming preconceived notions about anyone before you get to know their heart. I'm not your typical engineer, and that in itself is redefining what an engineer is to me and to those around me."
Want to subscribe to the "More Than an Engineer Blog" series and get notified when the newest post is up? Click here.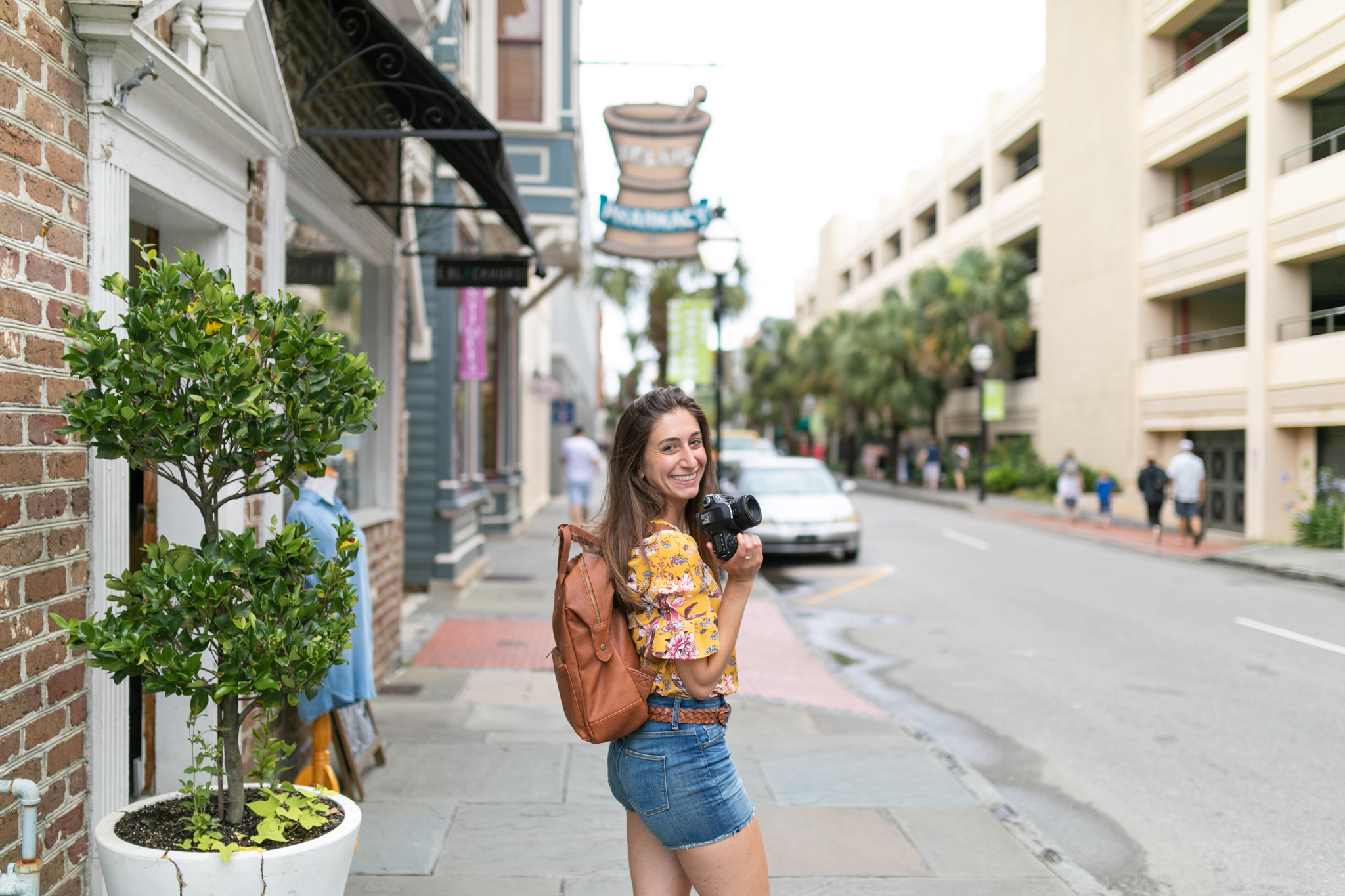 Hey Love! Thanks or reading!
I'm Michelle - I'm a branding and lifestyle photographer for women entrepreneurs. This blog series is just a part of what I do.
Click below to learn more about me and how I can help you!